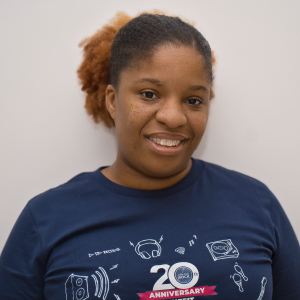 Tiffany "Tiffy" Wright
Senior Coordinator, Events
Tiffy joined the Music Will team as Coordinator of Events in February 2022. Tiffy focuses primarily on Development events such as the annual Benefit, smaller regional fundraising events, and coordinating classroom visits that foster student and educator engagement with artist and industry partners. She also supports Modern Band Summit and other community engagement events.
Tiffy has over 12 years of experience in special events and fundraising. In addition to her bachelors degree in writing and contemporary thought, Tiffy has earned a certification in Nonprofit Management from New York's Molloy College.
Her passion for music extends to her work in the artist management world helping to develop young artists and to curate hip hop-themed community events.
Tiffy and her beautifully talented daughter, Amani, recently moved back from Albany to her hometown of NYC. She played the clarinet in elementary school, and her daughter currently plays the trombone, but truly desires to become a drummer, which she is super stoked about!
Music Will provide amazing opportunities for generations to come.