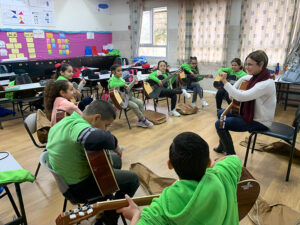 Music Will and David Broza's One Million Guitars partner to bring Arabic and Hebrew video music lessons to students in the Middle East and around the world
Montclair, NJ, June 25, 2021 – U.S.-based nonprofit Music Will is partnering with internationally renowned Israeli superstar David Broza's One Million Guitars Foundation to spread the gift of music education in the Middle East. Through this partnership, One Million Guitars has translated more than 70 of Music Will's innovative guitar lesson videos into Arabic and Hebrew, adding a curricular component to the One Million Guitars program, and making these fun, free music lessons accessible to children in the Middle East and around the world. Israel-based nonprofit organization Polyphony Education will also use these videos to Hebrew-speaking and Arabic-speaking students in Israel with limited access to music education. Visit Music Will's YouTube channel to see these lessons in Arabic and Hebrew.
Famed guitarist-vocalist Broza, recognized both for his dynamic guitar performances and his humanitarian efforts, launched the nonprofit organization, One Million Guitars, in 2018 with a mission to impact the lives of children around the globe through the power of a musical instrument. Guitars donated through this program, including some to Music Will students, provide a lifelong gift empowering students to express their musical selves. Now, via the Arabic and Hebrew video lessons, One Million Guitars adds Music Will's innovative and inclusive curriculum to its donation efforts.
"When at the age of 12 I held a Spanish Guitar for the first time, I found my channel through which to express myself," shared Broza. "As the years went by I grew with the Spanish Guitar as my companion, my tool, my unique form of communication. Through One Million Guitars I wish for every boy and girl to have an instrument as both an anchor for their own growth and prosperity and as a vehicle to connect them to their community, to better understand one another – through music. I hope the newly translated lessons will also help build this understanding."
The newly translated video lessons are free and widely available to both Arabic and Hebrew-speaking teachers and students in school environments and for students learning from their homes due to the ongoing global health crisis. These lessons add to Music Will's collection of free online resources for music teachers and students to use at home during times of digital and distance learning.
"Music is something that helps to bring harmony into our world, literally and figuratively," said David Wish, Founder & CEO of Music Will. "We are grateful to be able to offer lessons to kids in other parts of the world and to do our part to help make this world worthy of its children. Doing so with a humanitarian and artist like Mr. Broza and with an organization like Polyphony Education is an honor."
For the original English versions of these videos visit Music Will's Jam Zone. [/fusion_text][fusion_builder_row_inner]
About Music Will
Music Will transforms lives by restoring, expanding, and innovating music education in our schools. Their network of thousands of K-12 teachers across 48 states lead a national movement that brings innovative and inclusive music education to students.
Using genres including rock, pop, Latin, and rap, their program empowers teachers to build music programs as diverse as the kids they serve. As a result, students see themselves reflected in their classes, which strengthens their connection to their school, their peers, and their community. Music Will also donates necessary instruments and curriculum, meeting a key need of many school music programs. The world of music expands through innovation, Music Will ensures that music education does as well.
Since 2002, the organization has reached more than 1,000,000 students with highly inclusive and culturally responsive music education. Today, more than 550,000 kids currently participate in Music Will programs.
About One Million Guitars
One Million Guitars is a Non-Profit Foundation on a mission to impact the lives of millions of children around the globe through the power of a musical instrument. Having early access to music education can transform the future of a great learner and affect the trajectory of their entire life. Apart from the subjective notion that music lifts the soul, it has been empirically shown that learners with the benefit of a musical training excel in other academic and creative domains. Yet so many of our brightest minds, those that can inspire future generations to improve our world, do not have access to a music education. This all starts and ends with a kid with a guitar. Given the opportunity to surface the best version of themselves, millions of like minded children around the world will unite in a global chorus of personal growth, potential, diversity and peace.
About Polyphony Education
Polyphony believes that classical music has a unique power to transcend cultural and social boundaries, while advancing the building of a rich and vibrant civil society. Polyphony Education aims to help bridge the divide between the Arab and Jewish communities in Israel through classical music and other related art forms. Educating the performer and audience in the art of listening and communicating, while creating new channels for positive engagement between the two communities, is an essential step towards the advancement of a just and peaceful Israeli society.