Find Out More About Us
We'd love to connect with you and tell you more about Music Will! Fill out the form and we'll be in touch soon.
P.O. Box 43369, Montclair NJ 07043-0369
973–746-8248
info@musicwill.org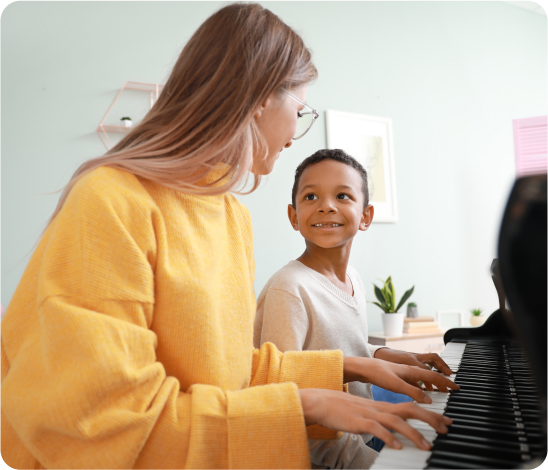 Help Us Bring Music Education to Students
Interested in how you can help us bring music education to millions of students across the country who have no access to it? Click the links below to learn more about partnering with Music Will or make your contribution today!
Is Music Will a registered nonprofit organization?
Yes, Music Will is a registered 501(c)(3) nonprofit organization. Our tax ID is 94-3396568.
Is Music Will hiring?
Please check our jobs page to explore our current job opportunities.
Can my child participate?
How does Music Will raise money?
Each year, Music Will actively raises funds from individuals, companies, and private foundations to support our mission. We would be happy to speak with you and discuss ways in which we can join forces to transform lives by transforming music education. Please send an email to info@musicwill.org and we'll connect with you.
How do I make a donation to Music Will?
Please visit our donate page to make a donation. Thank you!
Can I make a donation in memory or in honor of someone?
Yes. Making a donation in memory or honor of someone is a great way to celebrate a life in a meaningful way. Please visit our donate page to donate.
Can I select Music Will as a beneficiary of my retirement plan, IRA, life insurance policy, appreciated stock, bank account or other financial vehicles?
Naming Music Will as beneficiary of your retirement plan, IRA, life insurance policy, appreciated stock, bank account or other financial vehicles is a generous way to make a legacy gift "outside" a will. Like a bequest, these gifts help ensure the future of instrumental music education for children attending public schools in America. Please email info@musicwill.org and our bandmate will contact you.
How do I find out if my company matches my gifts to Music Will?
Use this tool to see if your company matches charitable donations. You can also reach out to your HR department to see if our organization is registered as an approved charity for your company. If not, you can register us into your system. We'd greatly appreciate it!
I am interested in volunteer opportunities. How do I get involved?
We often recruit volunteers to support our fundraising events. Please email info@musicwill.org and one of our bandmates will respond.
I have used instruments I'd like to donate. Who do I contact?
We currently do not accept donated instruments as we have found it to be more cost-effective and beneficial to purchase new instruments for students. We recommend that you contact your local school district as they might be better equipped to accept your generous donation.
Sponsorships, Partnerships & Artist Engagement
What does Music Will do?
Music Will provides instruction, instruments and professional development to K-12 and collegiate educators. Our work transforms lives by restoring, expanding, and innovating music programs in schools across the country. Together, our educators have brought the transformational gift of music education to more than 1,000,000 students.
Our inclusive, student-centered approach helps increase children's access to music education. We are pioneers in the field of modern band music programming and work with teachers, administrators, school districts, and colleges to build large-scale music programs that are as diverse as the students they serve.
How do I register to become a Music Will teacher?
How do I bring Music Will to my city/district?
Even if your school does not participate in the program, free modern band music lessons are available to you. Interested in learning more? We invite you to register for an upcoming Music Will professional development! You can also get a modern band program started in your area by speaking to your school or district administrator and encouraging them to connect with us by emailing program@musicwill.org.
I have submitted my registration to become a Music Will teacher. Now what?
Thanks for your registration! We will review your registration carefully and contact you via email. If there is no course currently scheduled for you to join, your name will be added to a waitlist and we will contact you as soon as we schedule another course.
What is the Music Will methodology?
Music Will has pioneered a method of musical instruction that captures students' attention and imagination right away. By emphasizing performance and composition over reading notes, students develop a musical voice and acquire musical skills at an accelerated pace. Like language, music is primarily a vehicle for human communication. We feel that these similarities have implications for the way that music should be taught to children. Much like the Suzuki Method, our approach is deliberately non-notational. However, instead of focusing on a classical repertoire, we begin with the popular musical styles and instruments with which students are already familiar.
What do Music Will students learn?
Music Will students learn to play styles of music that are familiar to them, such as rock, pop, rap, and R&B. Heavy emphasis is placed on performance, composition, and improvisation. Check out our free Music Will music lessons.
Why popular music?
All music is made up of the exact same building blocks. The music of Beethoven, the Beatles, and Beyoncé all use the same basic notes and chords. Viewed through this lens, musical genre becomes a secondary consideration in education. A student who feels comfortable playing rock, pop, or R&B music will be well-equipped to begin studying other musical forms as their musicianship develops.
What grades does Music Will serve?
Music Will serves students from Kindergarten through high school.
What can I expect when becoming a Music Will teacher?
New strategies focusing on instrumental instruction, improvisation, and songwriting using music production
Curricular projects & activities for all of your music students
Unlimited access to new curricular materials and online resources
Participation in a community of more than 3,000 music teachers from across the country
We would like to visit a Music Will classroom for a story. What steps must be taken?
We would be happy to host you on a visit to a Music Will classroom. Please email the details to marketing@musicwill.org and get in touch with you quickly. For urgent requests, please call 973-746-88248.
I want to write a story on Music Will. Where can I get more detailed information or schedule an interview?
Discover More About Music Will
Explore the links below to learn more about Music Will's impact and the people we serve.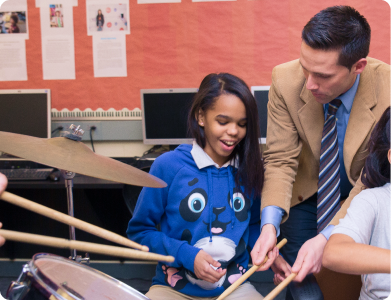 Become a Music Will Educator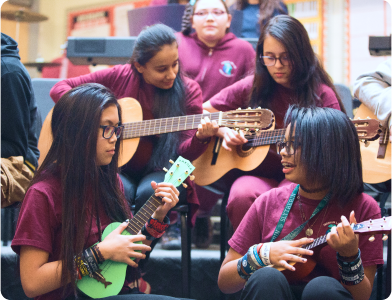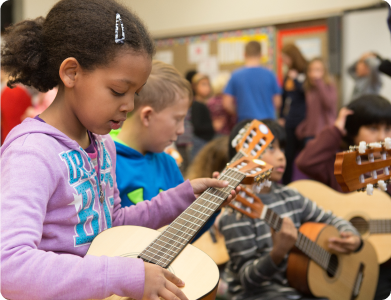 How We're Making a Difference