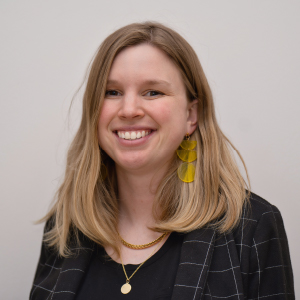 Mary Claxton
Director, Teaching & Learning
Mary Claxton has spent her professional life at the joyful intersection of music performance, teaching, and advocacy. Her early passion for music led her to be involved with every musical ensemble possible – band, choir, jazz band, pit orchestra and drumline, as well as informal experiences with various genres of pop bands. After receiving her bachelor's degree in music education from the University of Wisconsin – Eau Claire, Claxton went on to teach nearly every one of those same ensembles and later was pulled particularly towards the modern band movement that emphasized the songwriting and student-centered aspects that had made music so meaningful to her throughout the years.
She joined the Music Will team full-time as the Colorado Director of Programs in 2017. In this role, she worked directly with teachers and administrators across the state and is thrilled to be a major partner in the Take Note initiative, started by former Governor John Hickenlooper and Isaac Slade of the Fray, to bring the gift of music to every child in Colorado. She now serves teachers nationwide as the Associate Director of Teaching and Learning, creating culturally responsive curricular materials for students and teachers. Among her projects is the Little Kids Rock Courses platform, which brings unprecedented access and sequenced learning to music teachers worldwide.
Claxton has been honored to be a presenter and clinician for organizations such as the Association of Popular Music Education, the NAfME national honors ensemble for modern band, the Modern Band Summit, the University of Northern Colorado Jazz Festival, NAMM, and the University of Wisconsin – Eau Claire.
She received her masters in jazz studies from the University of Northern Colorado in 2021, and continues to perform often on drums, vocals and ukulele – working hard to further her skills and continue the conversation with her community and students about the role music plays in reflecting and changing our world.
Music Will help you see the world, and its people, in new ways.